Product description
Johan

PA and sound distribution system

Johan is universal, powerful and price-optimised PA and sound distribution system for 100 V distribution networks with a wide range of applications. With the addition of supplementary modules, it allows the interconnection of several operational centres through the existing Ethernet or optical network, thereby significantly saving its installation costs.

The three versions offered by the Telegrafia company are designed so that customers can choose between a simple and inexpensive solution and a more advanced one with autodiagnostic functions or mobile phone control.

    PA and sound distribution system Johan
64 alarms and live-voice messages

•  Up to 64 pre-defined alarms in the internal device memory
•  Live audio inputs via microphone
•  Live audio inputs via mobile phone

Simple installation

•  All system components optimised for simple installation
•  Possibility of interconnecting several operational centres through the existing Ethernet or optical network

Autodiagnostic functions

•  Integrated autodiagnostic functions of the PA system and communications channels
•  Possibility of the remote PA system operability monitoring

Various power supply methods

Built-in batteries charged from:
•  110 – 240 V mains
•  Solar panels

Battery backup

•  Possibility of the PA system operation even after a power failure
•  Low energy consumption

Several methods of control

•  A wall or desk version of an operational panel
•  A mobile phone
•  Through binary inputs or a wireless connection (overiť na HW oddelení)

High acoustic performance

•  High acoustic pressure over long distances
•  Excellent intelligibility of the reproduce spoken word

Standard 100 V distribution lines

•  100 W output of each Johan operational centre using standard 100 V sound distribution lines
Versions
PA and sound distribution system Johan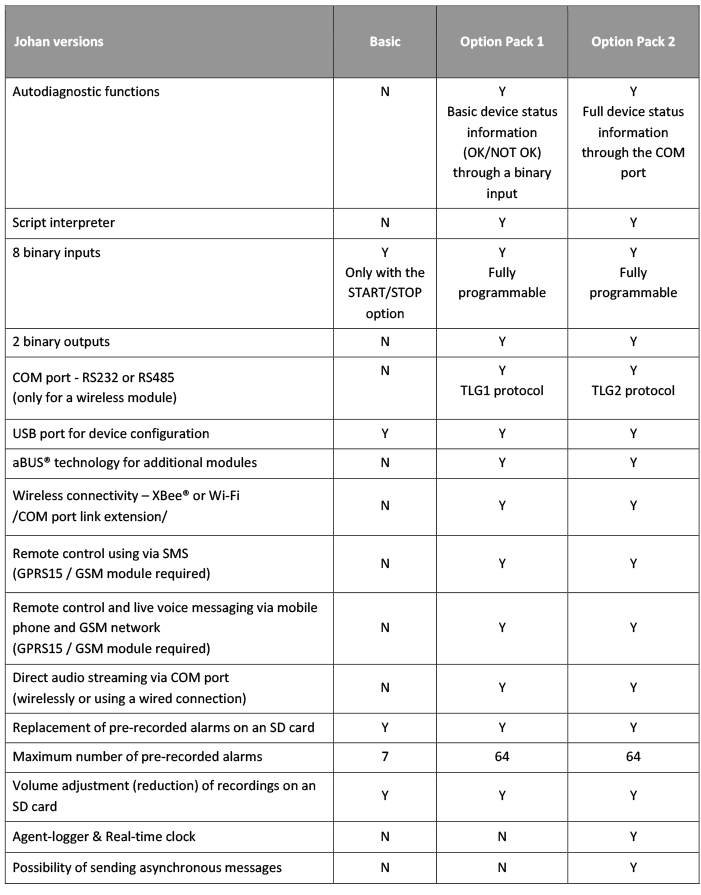 The universal PA and sound distribution system Johan is produced in three versions, differing mainly in their control and communications methods and their autodiagnostic and other advanced functions. Therefore, customers can choose a version that fully complies with their requirements and do not need to pay for the functionalities they will never use.
Control methods
PA and sound distribution system Johan
OCP16

This user-friendly operational panel with a touchscreen offers the most comfortable control of the Johan PA system, with all available functions.

LCU15

A wall version of the control unit with a display, push-button encoder, and a built-in microphone, all of them housed in an elegant resistant stainless steel box.

Binary inputs

The Johan PA system contains 8 binary inputs as part of a standard delivery for the system control. These are fully programmable for the Option Pack 1 and higher versions.

SMS and mobile phone

Using the additional GPRS15 module, the Johan PA system can be controlled and live voice transmitted via SMS and mobile phone.
Additional modules and accessories
PA and sound distribution system Johan
MAG16 Magnus module

This additional module enables Johan to communicate via the Internet using the TCP/IP protocol. It is suitable mainly for buildings with existing wired networks or for the distant Johan PA system operational centres that cannot be wirelessly interconnected.

GPRS15 module

If the Johan PA system is to be controlled remotely via SMS or live voice reproduction is desirable directly from a mobile phone, this module is the right choice. For its smooth operation, it must have an activated SIM card.

Mini radiopack

A mini radiopack consists of a radio station and additional module for wireless radio communication. A range of suitable aerials is offered as its accessories.
Accessories
Apart from the additional modules, a range of accessories is offered for the Johan PA system for its installation and operation. Customers can choose from a wide selection of back-up batteries, 100 V pressure loudspeakers, or aerials. Do not hesitate to contact us. We will be happy to propose a suitable solution to you and satisfy your needs.
.