Millions of people around the world rely
on the sirens and PA systems made by Telegrafia®
The right information at the right time
Telegrafia a. s. is a manufacturer and supplier of cutting-edge products and solutions in the field of early warning and notification systems with their own development capacities. Furthermore, it runs the Slovak IT training centre along with the Pearson VUE testing centre specializing in Microsoft® products, and it renders complete services in the delivery of enterprise resource planning (ERP) systems based on the Dynamics NAV product.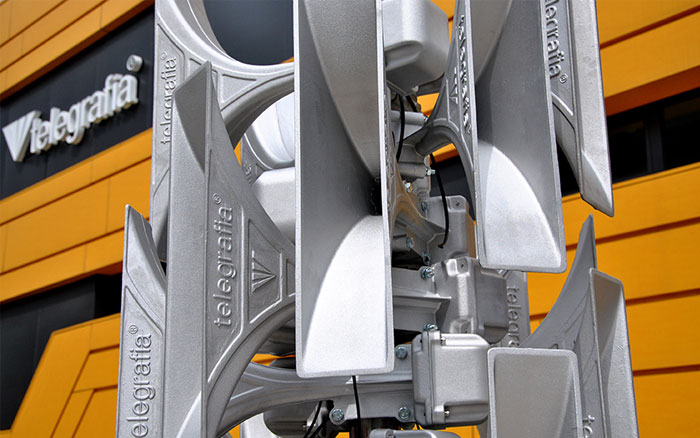 The main scope of Telegrafia's business is the Pavian and Gibon electronic sirens, compact Screamer sirens, mobile Pavian Car and Screamer Car sirens, powered also from solar cells, Amadeo and Johan PA systems, as well as the specialized Vektra® software for control centres. Telegrafia was the first to introduce an innovative modular aSCADA® product line to the global market, serving as a cost-effective pricing tool for the creation of professional solutions in the field of indoor and outdoor sound distribution systems.
The company's early warning and notification products and solutions have found their applications in a number of customer implementations around the world, from French Polynesia through Asia, Europe as far as to South America. The proof of quality is a multiple prestigious Slovak Gold® award for the Pavian electronic siren. The Telegrafia company is a proud holder of the STN EN ISO 9001: 2015 quality management system certificate.
March,
2010
Present
The national company has grown to be a global player in the field of warning and notification systems, with a network of business partners around the world. Thanks to its own development centre and a positive approach to innovation, its objective is no longer keeping up with current trends, but developing new ones.
1990
Beginning of the modern history
Following the fall of communism in 1990, the newly established Telegrafia company continued in the tradition of Telegrafia Pardubice and as one of the first companies of the new free Czechoslovakia, it started to sell modern computers.
1945
Inclusion in the Tesla group
After World War II, Telegrafia was integrated into the Tesla group and gradually expanded its field of expertise from high-quality consumer electronics to first-rate radars for the detection of "invisible" aircrafts of the stealth category.
1919
Establishment of the Telegrafia a. s. Pardubice company
The company has significantly contributed to the history of radioelectronics and particularly to radio communications in the former Czechoslovakia with a leading position on the market.
221
Man-years of experience
Telegrafia's Headquarters
The new company's headquarters are more modern, spacious and comfortable,
and perfectly suits all company's needs and purposes.